01.10.2020 | Research paper | Ausgabe 10/2020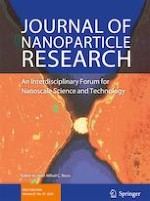 Sandwich Au/SMSiO2/Ag hybrid substrate: synthesis, characterization, and surface-enhanced Raman scattering performance
Zeitschrift:
Autoren:

Zhiqiang Niu, Hongmei Liu, Ying Chen, Chenjie Gu, Ziqi Zhao, Tao Jiang
Wichtige Hinweise
Supplementary Information
Publisher's note
Springer Nature remains neutral with regard to jurisdictional claims in published maps and institutional affiliations.
Abstract
Surface-enhanced Raman scattering (SERS) has been considered a high sensitivity, specificity, and ultra-fast analytical technique in molecular fingerprint recognition. Herein, a kind of sandwich Au/"star-like" mesoporous SiO2/Ag (Au/MSiO2/Ag) hybrid nanostructure was developed by implementing the electrostatic adsorption and magnetron sputtering technology for SERS application. In the experiment, the decoration density of the MSiO2/Ag nanostructure was conveniently adjusted through tuning the washing times of the silicon wafer in ethanol. The prepared substrate with the optimal geometry structure exhibited an enhancement factor (EF) of 9.2 × 105, a limit of detection (LOD) of 5 × 10−5 M, and a low relative standard deviation value of 5.02%. In the end, the obtained hybrid SERS substrate was used to detect nitrofurazone and an excellent LOD of 1 ppm was achieved. Overall, our novel sandwich Au/MSiO2/Ag hybrid SERS substrate provides a rapid and accurate way of monitoring ultra-low trace antibiotics, which can significantly promote food safety.
×