23.09.2016 | Batteries and Supercapacitors | Ausgabe 7/2017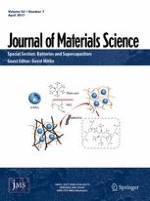 Sandwich nanostructured LiMnPO4/C as enhanced cathode materials for lithium-ion batteries
Zeitschrift:
Autoren:

Xudong Hu, Xiaohong Sun, Ming Yang, Huiming Ji, Xiaolei Li, Shu Cai, Ruisong Guo, Feng Hou, Chunming Zheng, Wenbin Hu
Wichtige Hinweise
Electronic supplementary material
The online version of this article (doi:
10.​1007/​s10853-016-0417-3
) contains supplementary material, which is available to authorized users.
Abstract
An alternate nanosheet/nanoparticle sandwich nanostructured LiMnPO4 cathode material is successfully synthesized by solvothermal process using oleic acid as the chelating agent. The size of the nanoparticles is as small as ca. 20 nm, which is important to avoid the agglomeration of the nanosheets from overlapping. The carbon-coated LiMnPO4 cathode delivers discharge capacities of 164.9 mAh g−1 at 0.05 C, 159.6 mAh g−1 at 0.1 C, 142.5 mAh g−1 at 0.2 C, and even 77.6 mAh g−1 at 5 C rates, which values are obviously better than those of the counterparts of pure nanosheets. The rate capability and cycle life tests indicate that the sandwich nanostructured LiMnPO4/C cathode material also exhibits an excellent rate and cycle performance. The scanning electron microscopy, transmission electron microscopy, and N2 adsorption–desorption results confirm that the sandwich nanostructured LiMnPO4 with better dispersibility, higher surface area, and broader mesoporous distribution is beneficial to achieve the uniform post carbon-coating morphology and result in the improved electrochemical property. The enhanced electrochemical performances of sandwich nanostructured LiMnPO4/C electrode have also been verified by the electrochemical impedance spectra and electron energy loss spectroscopy.