2013 | OriginalPaper | Buchkapitel
Satellite Antenna Systems Design and Implementation Around the World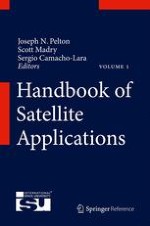 Erstes Kapitel lesen
Autoren: Dr. Takashi Iida, Dr. Joseph N. Pelton
Verlag: Springer New York
Abstract
In this chapter, the objective is to discuss the practical implementation of various types of satellite antenna designs over time and to indicate the current state of the art and future trends to develop even higher gain satellite antennas with greater efficiencies in terms of frequency reuse or higher capacity FSS or MSS type satellite systems. Although there continue to be smaller satellites that are launched for communications purposes, the antenna designs utilize the same technologies and concepts that are employed in larger scale satellites.
The evolution of antennas for satellite communications has generally conformed to the following historical pattern:
Low gain omni and squinted-beam antennas
Increased gain types of satellite antennas (horn type and helix antennas)

Parabolic reflectors (including multi-beam antennas with multiple feed systems)

Deployable antennas (particularly for achieving more highly focused beams and support much high-gain multi-beam antennas

Phased array feed and Phased array antennas

Scanning and hopping beams

Optical communications systems (initially for Intersatellite links and interplanetary communications, but this type of technology might possibly be used for Earth to Space systems in the future as well).
Examples of many of these types of satellite antennas will be presented in the following chapter. But first the factors that have led engineers to design improved and higher performance antennas will be discussed and examined.