2013 | OriginalPaper | Buchkapitel
Satellite Communications and Space Telecommunications Frequencies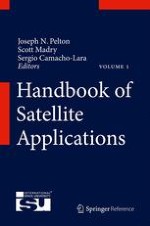 Erstes Kapitel lesen
Autor: Prof. Michel Bousquet
Verlag: Springer New York
Abstract
Radio frequencies allow information to be transmitted over large distances by radio waves. The essential element to high-quality satellite communications is the assignment of radio frequency spectrum to various types of services. Only a limited amount of such spectra is assigned to earth-space radiolinks and thus the available bandwidth must be used with a high degree of efficiency. There are many technical elements associated with the efficient use of RF spectra for satellite communications and navigation and these elements are addressed in some detail in this chapter.
The basic properties of electromagnetic waves are first discussed, together with an overview of the basic electromagnetic phenomena such as reflection, refraction, polarization, diffraction, and absorption useful to define how radio waves travel in free space and in atmosphere. The basic parameters used to characterize the antennas responsible for generating and receiving these waves are introduced.
A survey of the propagation impairments (gas and rain attenuation, scintillation, etc.) due to the nonionized lower layers of the atmosphere from Ku- to Ka- and V-bands is presented. On the other hand, radio waves of Global Navigation Satellite Systems (GNSS) interact with the free electrons of the upper atmosphere ionized layers on their path to the receiver, changing their speed and direction of travel.