2011 | OriginalPaper | Buchkapitel
30. Saul I. Gass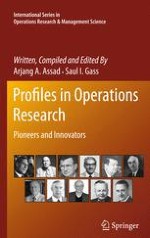 Erstes Kapitel lesen
Autor: Arjang A. Assad
Verlag: Springer US
Abstract
The founders of operations research (OR) all trained and practiced in other fields before coming to OR. As OR expanded to a wider range of application areas after World War II (WWII), they turned to address OR's new seminal challenges. If we view these founders as the first OR generation, then the second generation are those individuals who learned from and worked directly with the first generation during the late 1940s and early 1950s. By this reckoning, Saul Gass commands a senior ranking within the second generation. In 1952, as a civilian government mathematician, he joined Project SCOOP (Scientific Computation of Optimal Programs), the U.S. Air Force's Pentagon-based organization that, under George Dantzig, was the first to develop and apply linear programming (LP). This position shaped much of his subsequent OR research and practice, and led to his 1958 book,
Linear Programming: Methods and Applications
, the first textbook on LP.