05.10.2018 | Ausgabe 4/2018 Open Access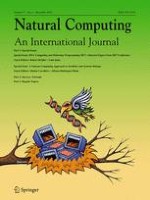 Scaling up genetic circuit design for cellular computing: advances and prospects
Zeitschrift:
Autoren:

Yiyu Xiang, Neil Dalchau, Baojun Wang
2

Design: expanded toolbox for engineering complex gene regulation programs

The construction of any large-scale circuit requires a large library of well characterized, orthogonal and modular gates comprising the 'building blocks' of the system. Since the beginning of the field there has been a significant and promising expansion of the molecular toolbox. A large variety of repurposed biochemical tools have been demonstrated to admit some degree of control over cellular state. Many of these tools co-opt biology's central dogma, the expression of a gene and the information flow from DNA to RNA to proteins. These can be broadly grouped into three types; control of DNA transcription, messenger RNA (mRNA) translation or protein–protein interactions. Many of these methods are shown in Fig.

3

.
×
Inducible parts provide useful externally mediated control of systems whilst customizable DNA sequence binding enables a significant expansion of the number of orthogonal parts available for large circuits (Garg et al.
2012
; Lohmueller et al.
2012
; Qi et al.
2013
; Kiani et al.
2014
; Nielsen and Voigt
2014
; Li et al.
2015
).
Control of expression using RNA tends to be less burdensome on host metabolism and can be governed by cleavage (Qi et al.
2012
), pair binding (Rinaudo et al.
2007
; Anderson et al.
2007
; Xie et al.
2011
; Wroblewska et al.
2015
) or secondary structure (Sharma et al.
2008
; Auslander and Fussenegger
2014
; Myhrvold and Silver
2015
; Chappell et al.
2015
; Karagiannis et al.
2016
), as folding has been proved to be moderately predictable using software such as NUPACK (Zadeh et al.
2011
; Wang and Buck
2012
). Protein–protein interactions such as those in the
hrp
(hypersensitive response and pathogenicity) gene regulation system can be utilized to generate versatile multi-input genetic logic gates (Wang et al.
2011
; Wang and Buck
2014
). Artificially or naturally split inteins can integrate signals (Schaerli et al.
2014
) and different proteins can even be fused to each other in order to have hybrid properties (Wang et al.
2013b
).
The expansion of parts has been enabled by a variety of tools; genomic part mining was successful in building a library of 16 orthogonal strongly repressing TetR family repressors (Stanton et al.
2013
), 4 different T7 polymerases (Temme et al.
2012
) and 20 different sigma factors (Rhodius et al.
2013
). Chen et al. (
2013
) characterized 582 terminators whilst a protein engineering approach using bioinformatics and site directed mutagenesis generated different DNA binding specificities in the cAMP receptor protein (CRP) family (Desai et al.
2009
). However, it is likely that the predictable natures of customizable DNA binding proteins and RNA secondary structure-based tools will provide the largest number of orthogonal parts. Didovyk et al. (
2016
) generated 633 possible orthogonal (to host and circuit) guide RNA's for CRISPR/Cas9 mediated gene regulation through computational screening whilst 180 TALE effectors were designed by Garg et al. (
2012
). Other studies developed 26 toehold switches (Green et al.
2014
), 4 RNA riboregulator/genetic switchboard pairs (Callura et al.
2012
), 6 RNA-IN-RNA-OUT families (Mutalik et al.
2012
), 5 zinc fingers (Khalil et al.
2012
), and 20 sigma factors (Rhodius et al.
2013
). From here, one can determine that there is a significant number of parts, far more than is needed than for most current circuits and yet circuit size has not increased in proportion to the size of the library.
Finally, there is a variety of tuning 'knobs' which although not able to provide control themselves, can be used to adjust the dynamic properties of a system to respond effectively to expected inputs and produce desired outputs depending on the need. These include changing the strength of the promoter sequence, hybrid combinations of promoter sequences (Chen et al.
2018
), operator site modification (Ang et al.
2013
), ribosome binding site (RBS) modification (Salis et al.
2009
), altering plasmid copy number (Guido et al.
2006
), using decoy DNA operators (Lee and Maheshri
2012
), RNA interference (RNAi), degradation tags (Bonger et al.
2011
), or co-expression with sequestering proteins or molecules (Wang et al.
2014
). Cooperativity has been improved using oligomerization domains (Hou et al.
2018
). Positive feedback loops and signal cascades have improved the ON/OFF ratio in digital-like circuits which is often poor due to an inherent basal level of 'leaky' gene expression even without the presence of activators or in the presence of repressors (Bradley et al.
2016a
). A informative review of available control and tuning methods was covered by Ang et al. (
2013
), Bradley and Wang (
2015
) and Bradley et al. (
2016b
).
3

Build: standard large-scale DNA assembly

Although genes can be chemically synthesized, it is still an expensive solution despite the recent drop in cost and importantly does not incorporate any standardization. Ideally all parts would be characterized, stored in a library and then manipulated at will using a common scalable DNA assembly protocol. Initial attempts were based on lengthy stepwise restriction enzyme mechanisms such as in BioBricks™ (Shetty et al.

2008

). The latest methods are termed 'one pot' as multiple fragments can be assembled at once in a defined order saving many man-hours in the laboratory. These include Golden Gate and its derivations; MoClo (modular cloning) and Goldenbraid (Engler et al.

2008

; Sarrion-Perdigones et al.

2011

; Weber et al.

2011

). Gibson assembly (

2009

), the most popular non-synthesis based method (Kahl and Endy

2013

), uses homology of overlapping single stranded DNA which also avoids the necessity of removing forbidden sequences (such as restriction enzyme sites) in the sequences being assembled. Unfortunately, the superseding of BioBricks with formats such as Gibson assembly has moved parts back towards non-modular tailored solutions. Assembled parts cannot be ported to another assembly without new specific primer, and each new PCR reaction itself has bespoke conditions affecting assembly success due to the lack of standardization in flanking sequences. This can also have ramifications in terms of genetic context (discussed later on), and libraries of parts become more complex to reuse. Efforts have been made to add modular prefixes and suffixes; Casini et al. (

2014

) developed a strategy named MODAL (Modular Overlap-Directed Assembly with Linkers) and similar methods were published elsewhere (Torella et al.

2014

). Woodruff et al. (

2017

) used unique flanking sequences acting as a barcode in a pool of collected constructs that can be retrieved using PCR and subsequently assembled using Golden gate assembly. Biopart Assembly Standard for Idempotent Cloning (BASIC) assembly exploits orthogonal linkers to avoid PCR entirely and achieved over 90% accuracy with a 7-part reaction. Devised a hybrid method, Golden Gate-Gibson (3G) combines overhang assembly with Golden Gate style part libraries (Halleran et al.

2018

). Despite the relatively rapid speed of modern assembly methods, construction of large libraries of clones can still take a significant amount of time. It is here that automated construction methods using robotics or microfluidics (discussed later), would greatly aid in speeding up the process as they can potentially run many assemblies at once 24 h a day with minimal human supervision.
4

Test: high-throughput circuit characterization

After the 'build' part of the cycle, the next part is to 'test'; quantifying the characteristics and dynamics of the circuit to inform on future designs and find solutions to any failures that have been encountered (debugging). Scalability in characterization is largely determined by the feasibility of running many concurrent experiments at once, measuring many different properties and gathering precise data from the samples reducing the time needed to complete the DBTL cycle.
5

Learn: biological circuit design automation and modelling

The synthetic biology community has developed software tools that aim to replicate the success of computer aided design (CAD) used in electronic circuit engineering. Design automation has the potential to accelerate biological design by allowing designers to access existing knowledge of biological parts, arrange parts into circuits, design experiments, store and visualise experimental data, and potentially make predictions about circuit behaviours. For circuit construction (build), it could plan out assembly of the physical DNA sequence from the given starting material and include the experimental protocol needed to do so. For testing, software might enable experiments to be designed and simulate a computational model of the system, allowing costly and time-consuming experiments to be replaced, but still give insight into how a system might behave and identify which experiments are critical or contain the most information for guiding design decisions.
6

Towards advanced paradigms in cellular computing
6.1

Memory and data storage

Memory in cells relies on permanent cellular changes in response to temporary inputs, normally genetic, this enables sequential logic over common combinatorial logic. One of the earliest reported devices was the bistable toggle switch, containing two stable gene expression states (Gardner et al.

2000

). Subsequent work used recombinases, enzymes that can catalyze DNA excision or flipping depending on the direction of the corresponding attachment (att) sites that flank the DNA sequence of interest (Bonnet et al.

2012

). Some recombinases are bidirectional, either inherently or alongside a co-expressed Recombinase Directionality Factor (RDF). However, often permanent reactions are preferred thanks to their inherent stability. Reading the output can be as easy as basic sequencing. Alternatively, there is a possibility of enclosing parts such as promoters and gene coding sequences which can be flipped in and out of the correct gene coding orientation enabling circuit integration for sequential logic. Siuti et al. (

2013

) were able to create 16 two-input Boolean functions using recombinases that surrounded genetic elements such as promoters and terminators, demonstrating memory stable for 90 cell generations and Yang et al. (

2014

) reached a recording capacity of 1 byte.

State machines can be one of a number of finite states at any given time, with access to states dependent on predetermined sequence of events triggered by various conditions. A basic 3-state version is shown in Fig.

2

c, and the most complex reported has 16 different positions (Roquet et al.

2016

). A version of this machine was used to record temporal events in a population, with the distribution of final cell states and spatial location recording the dynamics of any inducer response including pulses (Hsiao et al.

2016

). Another example created analog-like memory by generating graded expression of single stranded DNA in response to various signals, co-expressed with a corresponding recombinase targeting specific genomic sites resulting in a mutational response in the genome proportional to the duration and magnitude of the input (Farzadfard and Lu

2014

). As mentioned in the introduction, Weinberg et al. (

2017

) used recombinases to build over 100 different types of multi-input multi-output circuits that include a 1-bit full adder, by taking advantage of recombinases they were able to combine computation into a single layer.

The natural CRISPR (Clustered Regularly Interspaced Short Palindromic Repeats) and CRISPR associated protein (Cas) system stores DNA from invading species in the genome to generate an immune response. Memory can also be stored by co-opting this approach as shown in Fig.

2

d. Recoverable via sequencing, Shipman et al. (

2017

) assigned colours to the sequences and by distributing the system amongst many cells, they were able to construct a simple image recorder, with a capacity of 2.6 kilobytes. Akin to this method, another group recorded the occurrence of certain metabolites by initiating production of trigger DNA in their presence (Sheth et al.

2017

), others modified the sequence of recorder plasmids, shifting and measuring the ratio between modified and unmodified plasmids (Tang and Liu

2018

). Another recent example used DNA methylation to record events; repressed by a zinc finger in the off state, induction by heat methylates the DNA and prevents binding thereby activating permanent expression (Maier et al.

2017

).
6.2

Distributed computing

Most of the circuits have thus far been localized in a single cell. However natural systems can organize around different cells by using intercellular communication. Analogously much work has also gone into spatially distributing gene circuits across multiple cells, replacing the intracellular 'wires' with synthetic intercellular signalling pathways as seen in Fig.

2

e. This allows components to be reused whilst avoiding any potential 'cross talk', enabling scale up of vastly larger systems from a much smaller library of parts (Macía et al.

2012

) as combining the outputs of separate gates can functionally recreate the logic behaviour of a single more complex one (Regot et al.

2011

; Macía et al.

2012

).

In bacteria, signal propagation between cells can be achieved by adapting the quorum sensing molecules,

n

-acyl homoserine lactones (AHLs), natural molecules secreted by cells that allows for coordinated activity such as biofilm formation based on cell density (Tamsir et al.

2011

). Early circuits were small (Regot et al.

2011

) but recent ones are much larger, such as the 6-input multiplexer (Macia et al.

2016

) and the most complex system to date, a 1-bit full binary adder; incorporating 22 separate gates distributed amongst 9 specialized mammalian cell types in a complex three dimensional environment (Ausländer et al.

2017

). Guiziou et al. (

2018

) created an automated design framework that did not require cell to cell communication using integrase networks distributed across multiple cells. Memory, like other functions, can also be distributed into different cells, the bistable toggle switch was effectively replicated by two cells containing a NOT logic gate, each gate repressing the other when activated, communicating through inter-cellular signalling (Urrios et al.

2016

). This level of distributed computing can be applicable to metabolic engineering for synthetic product production where different populations each handle a different part of the pathway in a division of labour (Tsoi et al.

2018

). Other potential applications include using cell–cell signalling to induce structural self-organisation of tissues (Toda et al.

2018

) and pattern formation (Basu et al.

2005

; Karig et al.

2018

).
7

Challenges and outlooks

There are number of challenges which become especially relevant when scaling up the size and complexity of gene circuits for useful functions. Namely the ability of a circuit to sense inputs and generate useful outputs, manage resource consumption, and maintain modularity of parts. In particular, modularity faces challenges in orthogonality, retroactivity and avoiding undesirable behaviour arising from genetic and cellular context. Each problem will be defined, its importance explained, the current state of the art and future prospects examined.
7.1

Modular, robust and well characterized parts

Connectivity in this scenario refers to the ability of parts to communicate reliably with other parts, robust signal propagation down a system is important to generate a consistent output, if a signal degrades due to noise or is unable to be propagated it can disrupt function. Therefore it is desirable to protect circuits by maintaining good connectivity.

Understandably, for large scale gene circuits, all of these issues are proportionally magnified. The more parts the more points of failure. Ideally, there would be a large number of highly modular components that could easily be assembled together with predictable behaviour, in a sense 'plug in and play'. However this is far from the case: despite the wide array of parts that have been described in the literature many of them are not well characterized enough to facilitate easy reuse. Simply put, the behaviour of many components becomes less predictable as they taken are taken further away from their original context. This is partly down to a lack of standardization in characterization. Protocols vary across groups, equipment also differs and characterization will be subject to a host of specific design factors such as plasmid, strain and reporter choice which often we do not understand well enough to reliably predict behaviour when they are changed. The latter problem is a result of our general lack of knowledge regarding basic biological system behaviour. Whilst mapping out potential cross reactivity between a small libraries of parts is reasonably feasible, mapping all potential connections and determining all possible interactions with the host is an order of magnitude more complex and can be even higher if accounting for changing environments and different species across time and space. Not only would this be computationally burdensome and difficult to mathematically model, it would also require a heavy amount of accurate and precise data that simply does not exist in the required scale.

The solution to these problems will lie in more accurate and standardized initial characterization of parts, improved understanding of basic circuit–circuit and circuit-host interactions to predict behaviour under different conditions and the reduction of man-hours required using high throughput automated design, construction and characterization methods. It is in this context that large scale circuits could benefit from the scale up and automation of microfluidics for tasks such as genetic assembly and high throughput characterization experiments that gather precise single cell data (which offers a much deeper understanding of host-circuit physiology than population averages), cell free systems enabling rapid prototyping, and methods such as RNA-seq giving us a much wider view of cell state. The resulting data can then be fed into computational simulations and models in order to be fed into the next round of the DBTL cycle. This will result in a positive feedback loop of knowledge; as circuits become better characterized, our understanding of systems will increase, further informing our design, our ability to model and predict behaviour and subsequently reducing the time needed to complete the DBTL cycle.
7.2

Generating relevant inputs and outputs

For circuits to have pertinent real-world applications, they must be able to sense relevant phenomena such as the intracellular concentration of a metabolite or extracellular factors such as heavy metals, RNA, DNA, protein, pH, light, oxygen or heat. In addition they must actuate outputs that are valuable to human endeavour. By doing so gene circuits can make the leap from interesting academic problems to useful biotechnological applications.

The generation of novel functional parts often finds its inspiration in already existing natural systems, although a degree of characterization and refining of these parts is necessary to add them to the toolbox (Wang et al.

2015a

). Existing proteins have been engineered to sense new metabolites through directed evolution (Collins et al.

2006

; Taylor et al.

2016

) and some hybrids with novel function have also been developed. A synthetic light-sensitive sensor kinase (Cph1–EnvZ) was made in

E. coli

by fusing the photoreceptor domain of the phytochrome Cph1 protein from Synechocystis to the intracellular signal transduction domain of the

E. coli

EnvZ kinase, yielding a functional sensor chimera (Tabor et al.

2009

). Antibody domains have been fused with DNA binding domains and activated via ligand induced dimerization to enable sensing of new molecules (Chang et al.

2018

) and chimeric custom proteins have also been demonstrated with modified Notch receptors (Morsut et al.

2016

). In some cases sensors can be modified to work in different hosts, as demonstrated with the retooling of TetR family repressors, to work in human embryonic kidney (HEK293) and Chinese hamster ovary (CHO) cells (Stanton et al.

2014

). Examples of outputs include useful biological or small molecule products (Paddon and Keasling

2014

), simple signalling responses to difficult to detect stimuli (Wang et al.

2013a

; Bereza-Malcolm et al.

2015

), to the cancer targeting classifier circuits that secrete apoptotic proteins (Xie et al.

2011

).

Larger scale circuits will likely include a greater number of these unique sensing and output parts that will enable complex programmable functionality. For example, a bioremediation based system could potentially monitor many environmental inputs and secrete specific enzymes that degrade waste products in response. Circuits would benefit then, from a larger library of unique well characterized and modular parts, the general challenges and solutions of which have already been discussed. In particular, the ability to link novel inputs and outputs would benefit strongly from improved protein engineering techniques in modifying existing functionality or the building of chimeric proteins. In turn this would strongly benefit from deep structure function understanding to avoid time consuming trial and error experimentation (Wang et al.

2013b

). Bioinformatics may be able to play a strong role too, in estimating structure and function of candidate proteins from their genetic sequences to narrow the design space (Stanton et al.

2013

).
8

Concluding remarks

Gene circuits hold great potential for addressing real-world challenges including applications in biomanufacturing (Si and Zhao

2016

), biosensing (Bernard and Wang

2017

) and biotherapy (Riglar et al.

2017

). Larger scale systems potentially enable more intricate control and the larger circuits thus far discussed have been able to compute more complex functions than the smaller ones. Circuits have been steadily increasing in size, albeit slowly, and the molecular toolbox available to synthetic biologists is now larger than ever before. There has been a significant expansion of orthogonal parts that enable a vast quantity of versatile methods to control behaviour, providing a solid foundation for constructing complex circuits.

However there remains a significant lack of predictability of the behaviour of parts when put together that scales in larger systems preventing regular reuse of all but the most basic parts. Modularity and standardization remain issues for biological components and there are fundamental gaps in our knowledge on basic biological processes that prevent us from accurately predicting changes. Recent advances in characterization techniques enable high throughput experiments providing single cell and genome or proteome levels of data, whilst new methods in microfluidics and cell free systems potentially allow for high speed prototyping of systems in a matter of hours and days instead of weeks. The increase in time efficiency in the laboratory whilst simultaneously gathering larger data sets promises a positive feedback loop that enables increasingly faster iterations of the DBTL cycle that concurrently will result in larger more robust systems as well as a leap in our fundamental understanding of biological interactions. Automated systems can already be seen in industry at the start-up stage, at companies such as Ginkgo bioworks and Zymergen (Anne Ravanona

2015

; Siliconreview Team

2017

), performing industrial strain engineering with heavy use of robotics, next generation sequencing, automation and software. Some of these companies like Ginkgo, are spin-off companies from universities seeking to capitalize on their proprietary technologies and in 2017 50 synthetic biology companies managed to raise 1.7 billion US dollars in funding (Calvin Schmidt

2018

). Both academia and industry could benefit from continued and potential closer collaboration. Academia is well placed to investigate the basic biochemistry of the systems it engineers, furthering understanding of the relationship between circuit and host and do the groundwork that enables basic modular functional parts whilst industry works to apply the principles to relevant real-world applications. It would be pertinent for industry here to establish a forum for discussion of specific problems that need to be tackled for relevant market needs that academia could potentially cooperate on. Closer partnership will require adoption of model organisms that are more relevant for biotechnology and close collaboration with fields such as chemical engineering that work with relevant techniques in order to bridge the gap between proof of concept and industrially sized production (Moser et al.

2012

).
Acknowledgements
The work was supported by the UK Biotechnology and Biological Sciences Research Council project grant [BB/N007212/1] and the Leverhulme Trust research grant [RPG-2015-445]. YX acknowledges funding support by a UK Engineering and Physical Sciences Research Council iCASE PhD scholarship and Microsoft Research Cambridge.
Open Access
This article is distributed under the terms of the Creative Commons Attribution 4.0 International License (
http://​creativecommons.​org/​licenses/​by/​4.​0/​
), which permits unrestricted use, distribution, and reproduction in any medium, provided you give appropriate credit to the original author(s) and the source, provide a link to the Creative Commons license, and indicate if changes were made.