01.03.2015 | Ausgabe 1/2015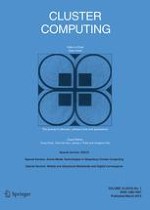 Scaling up MapReduce-based Big Data Processing on Multi-GPU systems
Zeitschrift:
Autoren:

Hai Jiang, Yi Chen, Zhi Qiao, Tien-Hsiung Weng, Kuan-Ching Li
Abstract
MapReduce is a popular data-parallel processing model encompassed with recent advances in computing technology and has been widely exploited for large-scale data analysis. The high demand on MapReduce has stimulated the investigation of MapReduce implementations with different architectural models and computing paradigms, such as multi-core clusters, Clouds, Cubieboards and GPUs. Particularly, current GPU-based MapReduce approaches mainly focus on single-GPU algorithms and cannot handle large data sets, due to the limited GPU memory capacity. Based on the previous multi-GPU MapReduce version MGMR, this paper proposes an upgrade version MGMR++ to eliminate GPU memory limitation and a pipelined version, PMGMR, to handle the Big Data challenge through both CPU memory and hard disks. MGMR++ is extended from MGMR with flexible C++ templates and CPU memory utilization, while PMGMR fine-tuned the performance through the latest GPU features such as streams and Hyper-Q as well as hard disk utilization. Compared to MGMR (Jiang et al., Cluster Computing
2013
), the proposed schemes achieve about 2.5-fold performance improvement, increase system scalability, and allow programmers to write straightforward MapReduce code for Big Data.