2007 | OriginalPaper | Buchkapitel
32. Scanning Probe Studies of Nanoscale Adhesion Between Solids in the Presence of Liquids and Monolayer Films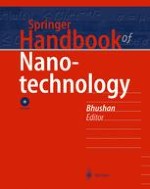 Erstes Kapitel lesen
Autoren: Prof. Robert Carpick, Dr. James Batteas, Dr. Maarten Boer
Verlag: Springer Berlin Heidelberg
Abstract
Adhesion between solids is a ubiquitous phenomenon whose importance is magnified at the micrometer and nanometer scales, where the surface-to-volume ratio diverges as we approach the size of a single atom.
Numerous techniques for measuring adhesion at the atomic scale have been developed, but significant limitations exist. Instrumental improvements and reliable quantification are still needed. Recent studies have highlighted the unique and important effect of liquid capillaries, particularly water, at the nanometer scale. The results demonstrate that macroscopic considerations of classic meniscus theory must be modified to take into account new scaling and geometric relationships unique to the nanometer scale. More generally, a molecular scale description of wetting and capillary condensation as it applies to nanoscale interfaces is clearly desirable, but remains an important challenge.
The measurement of adhesion between self-assembled monolayers has proven to be a reliable way to probe the influence of surface chemistry and local environment on adhesion. To date, however, few of these systems have been investigated in detail quantitatively. The molecular origins of adhesion down to the single-bond level still need to be fully investigated. The most recent studies illustrate that, while new information about adhesion in these systems has been revealed, further enhancements of current techniques as well as the development of new methodologies coupled with accurate theoretical modeling are required to adequately tackle these complex measurements.