2020 | OriginalPaper | Buchkapitel
SCC for Sub-Saharan Africa Based on Local Raw Materials – Material Development, Optimisation, and Application Concept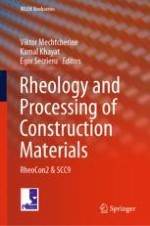 Erstes Kapitel lesen
Autor: Wolfram Schmidt
Abstract
Sub-Saharan Africa's (SSA) economies are developing at rapid pace. To keep up the verve, housing and infrastructure are urgent challenges, which demand for concrete technologies that can meet the demand. Considering the climate challenges that come along with concrete construction, for the growing African construction business, it is inevitable to use binders with lower carbon footprint and to use chemical admixtures that help reducing cement in concrete.
The use of superplasticizer (SP) and stabilising agents (STA) can enhance the concrete technology in SSA, since they can make concrete quality independent of the boundary parameters. However, the use of cement and concrete additives depends on their availability. Due to the partly poor infrastructure and the lack of chemical industries, in most regions in SSA, the use of admixtures is not yet always common practice. This amplifies the unfavourable framework for concrete construction such as fragmentary supply chains, high local cement prices, and unfavourable construction site facilities in this region significantly.
After providing a general overview of the peculiarities of the SSA boundary framework, and the recommendation of pre-mixed self-compacting concrete (SCC) compounds as a tool to overcome local challenges, a three-step SCC optimisation concept is recommended and experimentally proven based on readily available additives on the African continent. Eventually, the paper elaborates on alternative polysaccharide based rheology modifying agents from agricultural resources and waste materials with high potentials for high-performance concrete applications in SSA.