01.08.2016 | Thematic Issue | Ausgabe 15/2016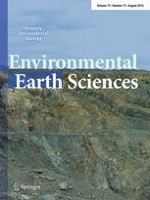 Scenario-based runoff prediction for the Kaidu River basin of the Tianshan Mountains, Northwest China
Zeitschrift:
Autoren:

Changchun Xu, Jie Zhao, Haijun Deng, Gonghuan Fang, Jing Tan, Dandan He, Yapeng Chen, Yaning Chen, Aihong Fu
Wichtige Hinweise
This article is part of a Topical Collection in Environmental Earth Sciences on "Water in Central Asia," guest edited by Daniel Karthe, Iskandar Abdullaev, Bazartseren Boldgiv, Dietrich Borchardt, Sergey Chalov, Jerker Jarsjö, Lanhai Li and Jeff Nittrouer.
Abstract
Based on the hydro-meteorological data over the past 50 years (1961–2010), the runoff change of the Kaidu River was predicted for the future 30 years (2011–2040). Two statistical downscaling models, the Statistical DownScaling Model (SDSM) and the Statistical Analog Resampling Scheme (STARS), were used to downscale the HadCM3 outputs for projecting the future climate scenarios of the basin. The Soil and Water Assessment Tool (SWAT) hydrological model was driven by the projected climate scenarios to generate the future runoff. Modeling results suggested that the SWAT model can well duplicate the recorded runoff changes in the basin and thus can be applied to simulation of future runoff changes. Both the SDSM and the STARS models performed well in simulating the temperature but relatively poorly in simulating the precipitation. Under the A2 and B2 scenarios the basin will experience a significant increasing trend in temperature and an indistinctive change trend in precipitation during the entire forecast period. Under the S1–S3 scenarios, both temperature and precipitation do not exhibit distinctive changes. In terms of river runoff, the predicted average annual runoff will be relatively abundant during the period from 2010s to 2020s but obviously short after 2020s under A2 scenario and will be kept relatively steady under B2 scenario. The predicted runoff will fluctuate drastically with no any significant trend under S1–S3 scenarios. The relatively high runoffs under S2–S3 scenarios seem to indicate the importance of temperature increasing in generating runoff. The scenario-based predictions suggest that moderate emission (e.g., B2) or moderate warming (e.g., S2) is beneficial to maintaining the expected level of runoff in the future.