2018 | OriginalPaper | Buchkapitel
7. Scheduling the Binge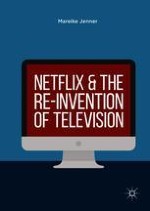 Erstes Kapitel lesen
Autor: Mareike Jenner
Abstract
This chapter deals with the way Netflix employs binge-watching as a structuring force in its organisation and publication of content. In this discussion, this chapter puts Netflix' organisational structure in relation to the linear television schedule, discussing similarities and differences. Central to this are Lisa Perks' (
Media Marathoning: Immersions in Morality.
Lexington Books, Lanham, MA,
2015
) concepts of insulated flow and entrance flow. Insulated flow describes the way Netflix forwards binge-watching as mode of viewing through features like the post play or skip intro function while entrance flow describes the way viewers find new texts to binge-watch. In the case of Netflix, entrance flow is guided by algorithms that nudge viewers towards different texts, sometimes following the logics of the linear television schedule, such as through the central role of genre. Thus, this chapter offers an analysis of binge-watching as central concept to guide the structuring of Netflix.