08.10.2019 | Methodologies and Application | Ausgabe 11/2020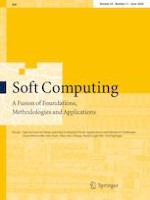 Scheduling two-stage assembly flow shop with random machines breakdowns: integrated new self-adapted differential evolutionary and simulation approach
Zeitschrift:
Autoren:

Hany Seidgar, Hamed Fazlollahtabar, Mostafa Zandieh
Wichtige Hinweise
Publisher's Note
Springer Nature remains neutral with regard to jurisdictional claims in published maps and institutional affiliations.
Abstract
This paper takes random machines breakdowns and the two-stage assembly flow shop problem into consideration as a realistic assumption in industrial environments. In practical manufacturing environment, disruptions and unforeseen incidents occur, so a schedule being built based on deterministic information is not practical and may lead to poor performance. In this paper, machines in manufacturing and assembly stages are not always available due to random machines breakdowns which occur during processing of each operation. The goal is to minimize the expected the weighted sum of makespan and mean of completion time. Owning to its problem complexity and since the problem belongs to NP-hard class, use of meta-heuristic algorithms is justified to tackle the potential complexity of the problem considered, and hence, we proposed four meta-heuristics algorithms entitled: genetic algorithm, imperialist competitive algorithm, cloud theory-based simulated annealing and new self-adapted differential evolutionary (NSDE) to solve it. Machine breakdown and dynamic nature of the problem, the structural complexity increases markedly. In this regard, to overcome this form of complexity, simulation techniques are typically employed. Eventually, since the proposed problem has both types of complexities (algorithm complexity and structural complexity), simulation is integrated into the proposed meta-heuristic approaches to handle the complexities. We apply artificial neural network as a tuning tool for predicting the input parameters of each proposed meta-heuristics algorithms in uncertain condition. Also, we suggest Taguchi method as one the most important adjusting approaches for analyzing the effect of input parameters in each algorithm. The computational results show which proposed NSDE statistically is better than other proposed meta-heuristics algorithms according two important indicators: quality of solution and computational time.