01.09.2014 | Ausgabe 9/2014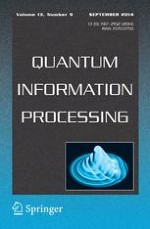 Schemes for remotely preparing an arbitrary four-qubit
\(\chi \)

-state
Zeitschrift:
Autoren:

Song-Ya Ma, Ming-Xing Luo, Xiu-Bo Chen, Yi-Xian Yang
Abstract
Two schemes via different entangled resources as the quantum channel are proposed to realize remote preparation of an arbitrary four-particle
\(\chi \)
-state with high success probabilities. To design these protocols, some useful and general measurement bases are constructed, which have no restrictions on the coefficients of the prepared states. It is shown that through a four-particle projective measurement and two-step three-particle projective measurement under the novel sets of mutually orthogonal basis vectors, the original state can be prepared with the probability 50 and 100 %, respectively. And for the first scheme, the special cases of the prepared state that the success probability reaches up to 100 % are discussed by the permutation group. Furthermore, the present schemes are extended to the non-maximally entangled quantum channel, and the classical communication costs are calculated.