2022 | OriginalPaper | Buchkapitel
14. Science of Key Building Materials—Cementitious Substances, Iron and Steel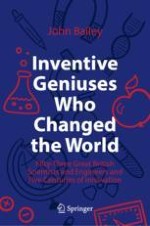 Erstes Kapitel lesen
Autor: John Bailey
Abstract
Great Britain was blessed with iron ore to make steam engines, other machinery and tools; vast deposits of coal to power those steam engines and to keep us warm; limestone as a raw material for Portland cement, as well as clays to produce sanitaryware and pottery. Through our international networks, we could import raw cotton for fabrics and clothes, together with rubber for pneumatic tyres.
Joseph Aspdin was a pioneer in the production of Portland cement, so starting the Age of Artificial Stone. In the absence of any chemical knowledge, but with luck and perseverance, he and his sons produced a chemically complex substance with great versatility for the building industry, making modern infrastructure possible.
When mixed with sand and water, it forms mortar—an adhesive substance for bricks and stone. When combined with sand, gravel and water, concrete is formed which hardens to a rock-like mass, even under water. After water, concrete is the most 'consumed' product in the world.
Their patents brought the Aspdins neither fame nor excessive fortune. Now, cement is vilified on environmental grounds for the greenhouse gas emissions arising from its manufacture.
In 1709, in Shropshire, Abraham Darby succeeded in smelting iron using coke derived from low-sulphur coal, thereby creating a cost-effective process for making commercial grade iron and jump-starting the Industrial Revolution. Key factors in our Industrial Revolution were Britain's deposits of iron ore and coal to make coke.
Henry Bessemer was largely self-taught and exhibited extraordinary inventive skills. He learnt basic metallurgy at his father's foundry. At the advent of the Crimean War, in 1853, he wanted to get involved with the manufacture of more robust casings for guns and canons. He developed a large scale, inexpensive industrial process for purifying pig iron to produce steel, heralding the Age of Steel. In 1875, Britain accounted for 47% of the world's pig iron and about 40% of global steel-production.
Steel is the second most mass-produced commodity, after cement, popular because of its unique combination of workability, versatility, strength, durability, and cost. It fitted perfectly with the expanding mechanisation taking place in the latter half of the nineteenth century, facilitating great strides in transport, shipping, construction, machine tools and weapons. Bessemer brought his own projects to fruition, benefitting handsomely from their results, whilst changing the way people lived and travelled.