2018 | OriginalPaper | Buchkapitel
6. Scientific Selling: Improving Sales Performance Through Applied Psychology. Case Study on a Romanian Company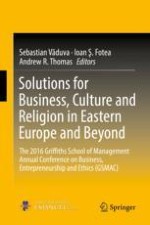 Erstes Kapitel lesen
Autoren: Mihai Talpoş, Denis Dan
Abstract
The incompatibilities that frequently emerge between certain products or services and a series of particular segments of potential clients are due, in a higher degree that we could imagine, to some psychocultural fundaments incorrectly conducted or understood by organizations that promote those products or services in the market.
For any sales professionals, it should be hard to design a daring sales objective on a certain segment of potential clients without basing ideas on a minimal understanding of the psychological or psychocultural profile of the targeted clients. If the sales actions initiated by a certain company do not complement the psychological characteristics of the targeted client segment, the chances that the products or services promoted to be rejected increase dramatically.
Unfortunately, there are still insufficient companies that understand the fact that the current sales management should be analyzed and understood not only from a unidirectional (mono-disciplinary) perspective but also from a complex perspective, relevant both from a scientific point of view and also from a social, economic, or even psychological one.
In such a context, the present paper aims to be of help both for sales managers or practitioners and also for theoreticians, with a perspective on the sales act, in general, approached from a multi-, inter-, plural-, and even transdisciplinary point of view, at the congruence between multiple disciplines, such as sales management, communication, fashion psychology, process communication, neurolinguistics programming, social psychology, cultural psychology, or psycholinguistics.
The work even suggests a comprehensive working tool: personality inventory of the shoppers, which may have concrete uses in the sales domain.