2016 | OriginalPaper | Buchkapitel
1. Scope of Ground Engineering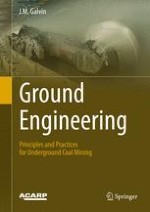 Autor: J. M. Galvin
Abstract
Ground engineering is concerned with the design, construction, operation, maintenance and, ultimately, the closure of safe, serviceable, durable, environmentally sustainable and economic structures built on or within geological materials. It is characterised by pervasive uncertainty and, therefore, needs to be practiced within a risk management framework.
This first chapter notes the wide range of professional competencies involved in ground engineering and some of the models proposed in attempting to clarify interactions between the underpinning and, sometimes, competing disciplines. The three geo-engineering triangles of the practice are defined, being engineering geology; geomechanics; and geotechnical engineering. It is shown how these provide a basis for developing geological models, turning them into ground models and, ultimately, geotechnical models.
The design process in ground engineering is quite different to that in most other branches of engineering. Factors that contribute to this situation in general practice and, more specifically, in an underground environment are presented. The state of the art is reviewed and supported by an appendix that provides a brief history of key developments in ground engineering relevant to underground coal mining.
The chapter concludes by presenting the basic framework for managing risk as a basis for discussing ground engineering in a risk management context in subsequent chapters, with the final chapter dealing with risk based ground management systems in more detail. Evidence is presented of the positive impact that a risk management approach supported by technological innovation has had on the safety and productivity performance of the underground coal mining sector in Australia.