2018 | OriginalPaper | Buchkapitel
1. Scope of Pedometrics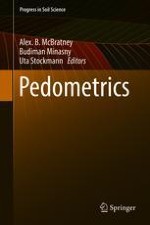 Autoren: Alex. B. McBratney, R. Murray Lark
Abstract
Why do we need pedometrics? What is its agenda? Pedometrics addresses certain key soil-related questions from a quantitative point of view. The need for the quantitative approach arises from a general demand for quantitative soil information for improved economic production and environmental management. Pedometrics addresses four main areas which are akin to the problems of conventional pedology:
1.
Understanding the pattern of soil distribution in character space – soil classification
2.
Understanding soil spatial and temporal variation
3.
Evaluating the utility and quality of soil
4.
Understanding the genesis of soil