19.09.2017 | Ausgabe 2/2019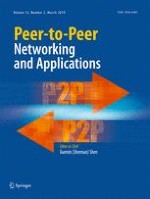 SCPLBS: a smart cooperative platform for load balancing and security on SDN distributed controllers
Zeitschrift:
Autoren:

Hong Zhong, Jianqiao Sheng, Yan Xu, Jie Cui
Wichtige Hinweise
This article is part of the Topical Collection:
Special Issue on Software Defined Networking: Trends, Challenges and Prospective Smart Solutions
Guest Editors: Ahmed E. Kamal, Liangxiu Han, Sohail Jabbar, and Liu Lu
Abstract
Software-Defined Networking (SDN) is a network architecture which has received much attention in recent years. It represents the future of network industry. As the Internet continues to exceed expectations of rapid development, a single centralized controller can be extended to distributed multiple controllers architecture. However, the distributed multiple controllers architecture is facing more and more serious challenges in the aspects of scalability, stability and security. In order to solve these problems, we propose a smart cooperative platform for load balancing and security on SDN distributed controllers, named SCPLBS. The collaborative platform is built on the control plane. A secure communication mechanism based on message authentication code is adopted between the cooperative platform and the controllers. Collaborative platform uses a data collection algorithm adapting to data fluctuation to collect the controllers' status and load information. Collaborative platform takes strategy to achieve the distributed controllers load balancing and failure recovery. In this paper, we use the Floodlight controller and develop the cooperative platform based on restlet framework. We test the effectiveness of the proposed scheme. The experimental results show that this scheme can well achieve the load balancing and failure recovery of the distributed controllers on the basis of the secure communication between the cooperative platform and the controllers.