01.10.2020 | Original Article | Ausgabe 19/2020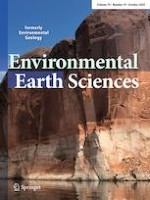 Scrutinizing the anthropogenic metals in the Brunei Bay sediment cores off the Malaysian waters
Zeitschrift:
Autoren:

B. Joseph, G. Adiana, M. C. Ong, N. A. M. Shazili, H. Shaari
Wichtige Hinweise
Publisher's Note
Springer Nature remains neutral with regard to jurisdictional claims in published maps and institutional affiliations.
Abstract
Brunei Bay, Borneo is a unique water ecosystem which has been conserved a wide range of wildlife. Hitherto, the rapidly increase of human activities has been denoted surround and within the bay ecosystem. Four sediment cores has been collected within Brunei Bay with the purpose of assessing metal's pollution level and geochemical characteristics of the cores. Metals total concentration, sediment physico-chemical characteristic, and sediment sequential extraction analysis were determined in each layer of the sediment cores. Generally, all metals showed different pattern of enrichment or depletion in each core. Sediment core of station LB recorded the highest average of metals compared to other sediment cores. Brunei Bay sediment cores are dominant by silt with low total organic carbon (TOC) content. However, both parameters are not affecting the concentration of metals in the bay sediment. Largely, all metals in all sediment cores are classiffied as uncontaminated-to-moderately contaminated except for lead (Pb). During the period of 1980's, Pb was moderately-to-strongly contaminated at station LB. It is most probably caused by the high usage of local boat and Labuan Port activities. The risk assessment code analysis has exhibited that only copper (Cu) has low risk on the benthic health in Brunei Bay sediment especially for station B5 and B7. In overall, Brunei Bay sediment shows no significant pollution caused by the metals; however, metal enrichment behavior in the sediment will increased the pollution risk on the bay ecosystem in the future.