Erschienen in: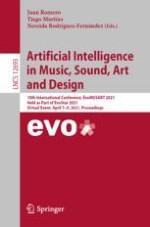 2021 | OriginalPaper | Buchkapitel
Sculpture Inspired Musical Composition
One Possible Approach
Abstract
In this paper, we present an inspirational system that takes a 3D model of a sculpture as starting point to compose music. It is considered that cross-domain mapping can be an approach to model inspiration. Our approach does not consider the interpretation of the sculpture but rather looks at it abstractly. The results were promising: the majority of the participants gave a classification of 4 out of 5 to the preferred interpretations of the compositions and related them to the respective sculpture. This is a step to a possible model for inspiration.