2017 | OriginalPaper | Buchkapitel
10. Searching for a Vision into the Future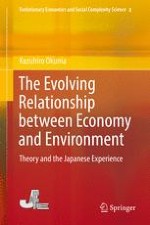 Erstes Kapitel lesen
Autor: Kazuhiro Okuma
Verlag: Springer Singapore
Abstract
Based on the results of the analyses on the relationship between economy and the environment in preceding chapters, this chapter explores a vision into the future.
The relationship between economy and the environment needs to be coordinated by institutions, though they are not easily formulated under the globalization of both economy and the environmental problems. Spatial and temporal distance between polluters and victims is disconnecting the feedback loop of the system.
Faced with this problem, we need to seek new mechanisms that complement this feedback. One possibility is a mechanism that the global structure and individual activities evolve by interacting with each other. International agreements and standards, even if weak, can encourage individual actors (e.g., companies, citizens) to take actions; and individual actions can strengthen momentum to establish stricter international rules. States can intermediate this interaction. This possible circulative mechanism can be regarded as the "micro-macro loop" of environmental measures. Another possibility is exploration of local configurations. In local areas where economy, environment, and society function in close relationship, advanced forms of coordination may be realized. If diverse forms of socioeconomic configuration are prepared, those better fitting can be chosen and diffused when going through a structural change under crisis. This can be considered as a "parallel experimentation" of evolutionary process.
States can strengthen environmental measures by pursuing mid-term Green Growth. Using the time and resources that this buys, they should implement policies with a longer-range perspective aiming at evolutionary effects as described above.