2006 | OriginalPaper | Buchkapitel
Seasonal and geographical variation of harbour porpoise (Phocoena phocoena) habitat use in the German Baltic Sea monitored by passive acoustic methods (PODs)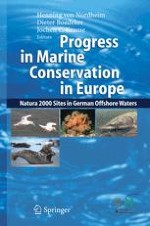 Erstes Kapitel lesen
Autoren: Ursula K. Verfuß, Christopher G. Honnef, Dr. Harald Benke
Verlag: Springer Berlin Heidelberg
Harbour porpoises (
Phocoena phocoena
) were known to be common in the Baltic Sea. In the past several decades, the abundance and distribution has decreased, leading to national and international agreements on the protection of this species. Plans for offshore windmill constructions and proposals for Marine Protected Areas (MPAs) to implement NATURA 2000, led to an increased research effort on the harbour porpoise in the German Exclusive Economic Zones (EEZs) of the North and Baltic Sea. Within this scope, the harbour porpoise habitat use of the German Baltic Sea from Fehmarn to the
Pommeranian Bay (Pommersche Bucht)
was investigated with the help of self-contained submersible data logger (Porpoise detectors, T-PODs), which register harbour porpoise echolocation click trains.
Comparison of the T-POD data from different measuring stations located throughout the Baltic Sea revealed a decrease of porpoise registrations from the west of the island of Fehmarn to the east of the island of Rügen. Seasonal variation of habitat use, and therefore of relative porpoise density, was seen around the island of Fehmarn and the
Kadet Trench (Kadetrinne)
, with many days of porpoise registrations in the summer and fewer registration days in the winter months.
The results prove the regular use of the western part of the German EEZ of the Baltic Sea by harbour porpoises from Fehmarn to the
Kadet Trench
including adjacent coastal waters. The low amount of porpoise registrations east of the Darss Sill (
Darsser Schwelle
) allows the assumption of a low harbour porpoise density in the eastern part of the German Baltic Sea. Furthermore, a clear seasonal variation in the amount of porpoise registration proves porpoise migration out of the western part of the German Baltic Sea in wintertime.