2017 | OriginalPaper | Buchkapitel
Seasonal Forecast of Tropical Cyclogenesis Over Bay of Bengal During Post-monsoon Season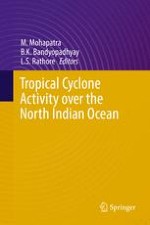 Erstes Kapitel lesen
Autoren: D. R. Pattanaik, O. P. Sreejith, D. S. Pai, Madhuri Musale
Abstract
The extensive coastal belt of India is very vulnerable to the deadly storms known as tropical cyclones (Mohapatra et al., Nat Hazards 63:1601–1620. doi:
10.​1007/​s11069-011-9891-8
, 2012; Mohapatra, J Earth Syst Sci 124:515–526. doi:
10.​1007/​s12040-015-0556-y
, 2015). These systems form initially as low-pressure areas (when the maximum sustained surface wind speed is < 17 knots) over the north Indian Ocean (NIO) and then intensify into depressions (maximum sustained surface wind speed is between 17 and 33 knots) and occasionally become tropical cyclones (when the surface wind exceeds 33 knots). For the tropical cyclones only, the peak is observed during November, followed by October in the post-monsoon season (October–December; OND), followed by the month of May in pre-monsoon season (March–May; MAM) (Pattanaik, Int J Climatol 25:1523–1530, 2005). Over the Bay of Bengal (BOB), the months of October–November are known to produce cyclonic disturbances (CDs; system of intensity depression and higher) of severe intensity, which after crossing the coast cause damages to life and property over many countries of south Asia surrounding the BOB. The strong winds, heavy rains and large storm surges associated with CDs are the factors that eventually lead to loss of life and property. Rains (sometimes even more than 30 cm/24 h) associated with cyclones are another source of damage. The combination of a shallow coastal plain along with the world's highest population density coupled with low socio-economic conditions in the region surrounding the BOB has resulted in several land falling CDs becoming devastating natural disasters. Thus, the seasonal forecast of frequency of CDs over the BOB is of great use to many users. Interest from the media and the general public in seasonal forecasts of CDs has increased tremendously.