01.03.2018 | Original Paper | Ausgabe 8/2018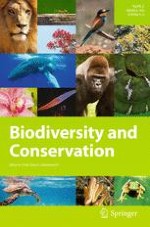 Seasonality, crop type and crop phenology influence crop damage by wildlife herbivores in Africa and Asia
Zeitschrift:
Autoren:

Eva M. Gross, Bibhuti P. Lahkar, Naresh Subedi, Vincent R. Nyirenda, Laly L. Lichtenfeld, Oliver Jakoby
Wichtige Hinweise
Communicated by David Hawksworth.
Electronic supplementary material
Abstract
Wildlife species damaging crops can cause substantial losses to farmers and at the same time create negative attitudes against wildlife and conservation efforts that may result in negative interactions against wildlife and lead to human-wildlife conflicts (HWCs). For the analysis of negative interactions between humans and terrestrial wildlife species, a globally applicable scheme for monitoring was developed and applied over 6 years in study areas of two Asian (Nepal and India) and two African (Zambia and Tanzania) countries. Factors influencing crop consumption by eight different groups of herbivores were monitored and analyzed using generalized linear models. Seasonality, crop availability, type and the phenological stage of the crop seem to play an important role in the crop damaging behavior of herbivores. Crop consumers such as elephants (
Loxodonta africana
and
Elephas maximus
), zebra (
Equus quagga
spp.) and boars/hogs (
Sus scrofa, Potamocherus larvatus
and
Phacochoerus africanus
) show preferences for harvested and/or maturing crops. Rhinos (
Rhinoceros unicornis
) and antelopes/deer (
Taurotragus oryx, Aepyceros melampus, Boselaphus tragocamelus
and
Axis axis
) damage the highest numbers of fields with crops at an intermediate growth stage. The findings of this study can inform management of HWCs in areas where people and wildlife coexist. Furthermore, this study demonstrates the benefits of standardized HWC assessments in order to compare data from different continents and between different species to be able to draw generalized conclusions for the management of HWC.