23.05.2018 | Methodologies and Application | Ausgabe 14/2019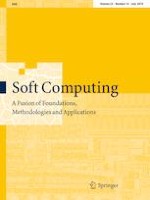 Secondary load frequency control for multi-microgrids: HiL real-time simulation
Zeitschrift:
Autoren:

Meysam Gheisarnejad, Mohammad Hassan Khooban
Wichtige Hinweise
Publisher's Note
Springer Nature remains neutral with regard to jurisdictional claims in published maps and institutional affiliations.
Abstract
The intermittent feature of renewable energy sources leads to the mismatch between supply and load demand on microgrids. In such circumstance, the system experiences large fluctuations, if the secondary load frequency control (LFC) mechanism is unable to compensate the mismatch. In this issue, this paper presents a well-structured combination of the fuzzy PD and cascade PI-PD controllers named FPD/PI-PD controller as a supplementary (secondary) controller for the secondary load frequency control in the islanded multi-microgrid (MMG). Additionally, two modifications to the JAYA algorithm are made to enhance the diversity of the initial population and ameliorate the global searching ability in the iterative process. Afterward, the improved JAYA algorithm, referred to as IJAYA, is employed for fine-tuning the proposed structured controller installed in areas of the studied MMG. The superiority of the proposed IJAYA is validated by comparative analysis with genetic algorithm and basic JAYA in a similar structure of the PID controller. Furthermore, it will be shown that the proposed FPD/PI-PD controller employing IJAYA provides a higher degree of stability in suppressing the responses deviations as compared with the conventional PID and FPID controller structures. Finally, the novel optimal proposed approach is validated and implemented in the hardware-in-the-loop (HIL) based on OPAL-RT to integrate the fidelity of physical simulation and the flexibility of numerical simulation.