2017 | OriginalPaper | Buchkapitel
9. Secondary Metabolites in Cheese Fungi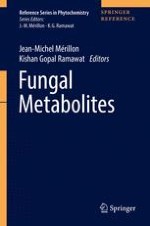 Erstes Kapitel lesen
Autoren: Juan F. Martín, Paloma Liras
Abstract
Several filamentous fungi grow on the surface or inside different types of cheese, produce secondary metabolites, and contribute to the organoleptic characteristics of mature cheese. Particularly relevant is the contribution of
Penicillium roqueforti
to the maturation of blue-veined cheeses (Roquefort, Danablu, Cabrales, etc.).
P. roqueforti
is inoculated into these cheeses as a secondary starter. This fungus is closely related taxonomically to
Penicillium carneum
and
Penicillium paneum
, but these two species are not used as starters because they produce the potent toxin patulin.
P. roqueforti
Thom has the capability to produce about 20 secondary metabolites of at least seven different families, but it seems that only some of them are produced in microaerobic conditions and accumulate inside the cheese (e.g., andrastins). This article focuses on the biosynthetic pathways, gene clusters, and relevance of the known metabolites of
P. roqueforti
including roquefortines, PR-toxin and eremofortins, andrastins, mycophenolic acid, clavines (agroclavine and festuclavine), citreoisocoumarin, and orsellinic acid. In addition the biosynthesis of patulin (a
P. paneum
and
P. carneum
product) is discussed.
Penicillium camemberti
grows on the surface of Camembert, Brie, and related white rind cheeses, and the penetration of secondary metabolites inside the cheese is relevant. One of the
P. camemberti
metabolites, cyclopiazonic acid, is important because of its neurotoxicity and its biosynthesis is reviewed. The removal of toxic metabolites gene clusters by precise gene excision while preserving all other characteristics of the improved starter strains, including enzymes involved in cheese ripening and aroma formation, is now open. A possible strain improvement application to the cheese industry is of great interest.