15.02.2019 | Ausgabe 2/2019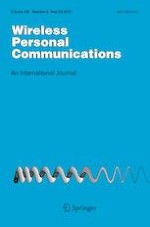 Security Implementation in Wireless Sensor Network by RF Signal Obfuscation
Zeitschrift:
Autoren:

Vinita Daiya, Jemimah Ebenezer, R. Jehadeesan
Wichtige Hinweise
Publisher's Note
Springer Nature remains neutral with regard to jurisdictional claims in published maps and institutional affiliations.
Abstract
In Wireless Sensor Network (WSN) the wireless communication is an open access communication. Eavesdropping is a common but severe security threat and it is the root cause of many attacks. This can be eliminated/prevented by providing physical (PHY) layer security by obfuscating the radio frequency (RF) signal radiated from antenna. This level of security can be achieved either at modulation or spread spectrum block being used at PHY layer. Modulation obfuscation requires complex hardware architecture; hence we have explored Spread Spectrum which needs a secret spreading sequence per node. This method provides security by indirectly not allowing an unknown user to synchronize to the communication. The security strength depends on the length of spreading sequence. As per the WSN PHY standard this approach cannot be implemented directly, since every node requires 16 different spreading sequences, which is practically not feasible. To resolve this, we have proposed two ways in this paper; single secret spreading sequence per node and Index Alteration based chipping sequence mapping for existing PHY layer. To strengthen the security, secret preamble with secret spreading sequence has also been explored. This paper also describes about the design of Novel PHY block. This block facilitates the dynamic change of spreading and preamble sequence. Proposed PHY security techniques have been implemented and tested using this block.