2018 | OriginalPaper | Buchkapitel
14. Sediment Hydrocarbons in Former Mangrove Areas, Southern Ogoniland, Eastern Niger Delta, Nigeria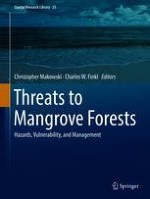 Erstes Kapitel lesen
Autoren: David I. Little, Kay Holtzmann, Erich R. Gundlach, Yakov Galperin
Abstract
The sediments and former mangrove areas near the town of Bodo in the Niger Delta are highly contaminated in the upper 20 cm by oil residues. The oil pollution resulting from two spills of approximately 10,000 t of Bonny Light crude oil in 2008 from the Trans-Niger Pipeline (TNP) killed mangroves in more than 1000 ha of local creeks. The impact of pollution in 2008 was exacerbated from late 2009 by increased transport and artisanal refining of crude oil stolen from tapped pipelines. It has been controversial which source of impact is the more relevant. Areas still contaminated include traditional fishing resources used by local communities. After years of preliminary engagement to build trust among stakeholders, the Bodo Mediation Initiative (BMI) was constituted formally in October 2013 to conduct cleanup of sediments in the impacted mangrove areas in an act of community self-management. This was to be accomplished with assistance from Shell Petroleum Development Company (SPDC) and mediation by the Dutch mission, federal and local government agencies, with advice from the United Nations Environment Programme (UNEP). The BMI then planned and undertook a preliminary Shoreline Cleanup Assessment Technique (SCAT) survey of the residual oil. SCAT is an internationally accepted visual survey method using standardized field procedures, photography and qualitative record-keeping. SCAT was calibrated using quantitative sediment sampling. These parallel activities were to investigate the degree of contamination, to help plan the cleanup, and to compare the situation before and after cleanup.
Total, aliphatic and aromatic hydrocarbon concentrations were determined using Gas Chromatography with Flame Ionization Detector (GC-FID). The results show the highly contaminated status of the sediments near Bodo in August 2015. Only one (1) of thirty-two (32) surface sediment samples (0–5 cm) showed a concentration of Total Petroleum Hydrocarbons (TPH in the C
5
–C
44
hydrocarbon range) below the Nigerian regulatory limit of 5000 mg/kg. Six (6) samples showed concentrations between 5000 and 10,000 mg/kg, seven (7) samples ranged between 10,000 and 20,000 mg/kg, fifteen (15) between 20,000 and 100,000 mg/kg, and three (3) were contaminated at levels above 100,000 mg/kg. Fifty-five (55) samples were taken at two different depths (0–5 cm and 15–20 cm), including the surface dataset. Although concentrations of TPH, aliphatic and aromatic hydrocarbons in the equivalent C
12
–C
44
range (EC
12
–EC
44
) were elevated in surface and subsurface samples, thirteen (13) of the subsurface samples had TPH concentrations below the Nigerian regulatory limit of 5000 mg/kg. TPH concentrations in three (3) subsurface samples showed concentrations between 5000 and 10,000 mg/kg, ten (10) samples ranged between 10,000 and 20,000 mg/kg, and six (6) between 20,000 and 100,000 mg/kg. The differences between surface and subsurface mean concentrations of TPH, aliphatic and aromatics fraction were each statistically significant (
p
< 0.01). The decreased concentrations from the surface towards deeper strata within the fine-grained sediments were as expected in the absence of significant deposition of new sediment above the oil spill layer. For the lower molecular weight fraction of aromatics (EC
5
–EC
12
) the trends were different. This fraction was detected in fifty-five (55) samples in much lower concentrations overall, and with only twenty (20) samples exceeding 1 mg/kg, and seven (7) exceeding 5 mg/kg of which six (6) were subsurface samples. Also, in the case of lighter aromatics, the mean concentrations increased significantly with depth (
p
< 0.01) due to their higher volatility and potential for penetrating fine-grained sediments compared to the heavier hydrocarbons.
The Polycyclic Aromatic Hydrocarbons (PAH) concentrations determined by Gas Chromatography-Mass Spectrometry (GC-MS) in 55 samples ranged widely with no significant difference with depth. Although none exceeded the Nigerian regulatory limit of 40 mg/kg, fifteen (15) samples of which seven (7) were in the subsurface, exceeded Environment Canada sediment quality guidelines for the sum of sixteen PAHs (ƩPAH16). A forensics evaluation of the available PAH data suggests the following sources of PAHs: petroleum, combustion of petroleum, and combustion products from wood and grass. This mixture illustrates inputs from both oil industry and illegal refinery activities, overprinted on a baseline of traditional biomass fuels. The SCAT and hydrocarbons results can be used to design practical cleanup and monitoring actions and to assess health risks for people ingesting or exposed to oil above an acceptable daily intake. Recommendations include preparing for the mangrove restoration, addressing possible human health impacts, better law enforcement, and improving employment opportunities in Bodo.