01.06.2011 | Original Article | Ausgabe 4/2011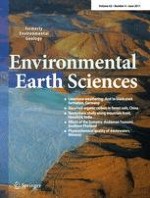 Sedimentological and geomorphological effects of the Sumatra–Andaman Tsunami in the area of Khao Lak, southern Thailand
Zeitschrift:
Autoren:

Lorenz E. A. Scheucher, Walter Vortisch
Abstract
The Sumatra–Andaman Tsunami left distinctive sedimentological and geomorphological signatures in the area of Khao Lak. Fine-grained sediments, predominantly layers of cohesive, carbonate-rich, fine-sandy silt with thicknesses of 1–10 cm, erosionally overlying pre-tsunami sandy soils and sediments, represent the most common tsunami deposits in the study area. Petrographically, they differ significantly from other coastal sediments and affiliated soils. Due to their grain size and corresponding clay mineral content, muddy shelf sediments (sub-wave base) are indicated as a main source. The present results suggest that indications of shelf influence, although varying regionally, might contribute to the identification of fine-grained tsunami sediments and their differentiation from storm sediments. However, the observed differences of tsunami sediments to soils and other coastal sediments, especially with respect to carbonate mineralogy, might disappear in short geological time under conditions of intensive weathering and bioturbation. At Cape Pakarang, hundreds of boulders with up to 24 tons were deposited on the foreshore and upper shoreface. Applying Nott's (Earth Planet Sci Lett 210:269–276,
2003
) formulas, minimum flow velocities of 3.9 m/s are required to transport the largest boulders. The devastating tsunami effect of both, onshore flow and backflow, is documented by damaged human constructions. Geomorphological effects include intensive widening of estuary mouths and the development of erosional channels. Now, estuary mouths are reduced, and erosional channels cut off from the sea due to the formation of a post-tsunami beach ridge.