2017 | OriginalPaper | Buchkapitel Open Access
3. Sediments of the Gulf of Mexico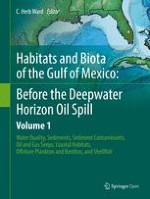 Autor: Richard A. Davis Jr.
Verlag: Springer New York
Abstract
The Gulf of Mexico includes a broad spectrum of depositional environments from the coast to deep water. Waves, tides, currents, and gravity are the primary mechanisms that move sediment. Most sediment originates from the adjacent land, primarily via fluvial transport. Direct precipitation of calcium carbonate and evaporate minerals takes place primarily on the Florida and Yucatán platforms and some coastal lagoons. The deep environments tend to be dominated by mud in a combination of terrigenous and biogenic sediments. The rate of accumulation and the volume of modern sediment on the shelf range widely. Generally, areas bounded by rivers receive the greatest volume of sediment at the highest rates of delivery. The Mississippi Delta is the extreme of this generality in that it covers almost the entire shelf. Tidal range on the Gulf is low, meaning that tidal currents are minimal except in the inlets. The estuaries tend to be shallow: thus, waves can be important in modifying sediment distribution. Sediment delivery is dominated by fluvial discharge, so climate and seasons are important factors.