2016 | OriginalPaper | Buchkapitel
1. Seeing Through the MIST: New Contenders for the African Space?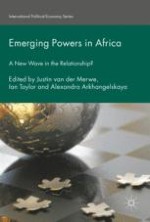 Autor: Justin van der Merwe
Abstract
As capitalism's last frontier, Africa is again at the forefront of global capital accumulation. The rise of powers such as Turkey, South Korea and Indonesia, and the faltering of some of the more established emerging markets, are pointing to significant changes in the relationship between these powers and Africa. These changes necessitate the re-evaluation of this relationship within the global capitalist order. This chapter introduces case studies from the BRICS (Brazil, Russia, India, China, South Africa) and beyond to demonstrate the constantly evolving and complex character of these relationships. In addition to this, the chapter previews new theoretical insights as well as theorisation of the spatio-temporal dynamics involved in processes of accumulation within the African space. It contends that, despite their supposed anti-imperialism, these emerging powers have become agents for continued uneven development.