2020 | OriginalPaper | Buchkapitel
Segregation of Granular Material During the Transport in Pipes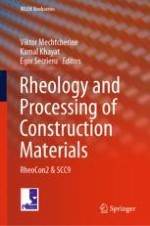 Erstes Kapitel lesen
Autoren: Martin A. Haustein, Rüdiger Schwarze
Abstract
Concrete is a material known for its complex rheology and segregation behavior. Especially near the wall, a zone depleted of coarse aggregates is found – the lubrication layer. The mechanism for the formation of the lubrication layer depends on hydrodynamic effects as well as on the particle/particle interactions.
An apparatus for the optical investigation of coarse glass particles dispersed in Newtonian and non-Newtonian model liquids was designed to observe the migration. Due to a pneumatic pumping of the suspension, the flow regime can be varied from constant to pulsating. Besides to measurements of the pressure loss during the pumping, the measurement area is optically accessible. The flow in the tube is measured by particle image velocimetry (PIV) and particle tracking velocimetry (PTV). With these techniques it is possible to visualize the velocity field in the near wall region and to track the position of particles.
The results of these measurements should be part of a benchmarking process of numerical simulations. Based on measurements and corresponding numerical simulations, we want to develop a rheological description of the lubrication layer near to the pipe wall.