2016 | OriginalPaper | Buchkapitel
9. Seismic Arrays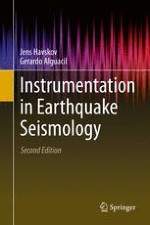 Erstes Kapitel lesen
Autoren: Jens Havskov, Gerardo Alguacil
Abstract
A seismic array is defined as a set of seismic sensors, with the same response functions, recording time synchronized and deployed in a homogeneous area according to a certain configuration, with the aim of obtaining a coherent spatial sampling of the seismic wavefield in time. From the analysis point of view, what defines an array is the collective waveform processing. In a network, the phases are picked and the arrival times are determined on each station separately; in an array, all channels are processed together, as different spatial samples of the same time-varying wavefield.
In the array, the stations are close enough so that the waveforms recorded with them from a distant event (distant in terms of the array size) will be very similar, except for the time delay and the added local noise. The detected signals are correlated, while the noise – both local ground noise and perhaps instrumental noise – is not. This allows the enhancement of the signal-to-noise ratio by summing the records with the suitable delays so that the wanted signal will be in phase on all channels. We can also measure the velocity of the wavefront as it is moving horizontally across the array. We call this apparent velocity since it is what the velocity appears to be in the horizontal plane. Similarly we can measure the azimuth of the arriving waveform. Both parameters can be used for locating the earthquake and the apparent velocity also for determining the type of seismic phase.
The present development of seismic arrays is partly due to the recommendation by a group of experts in 1958 of improving the quality of seismic stations worldwide as a mean of detecting possible violations of the agreement of nuclear test suspension. The availability of smaller sensors, better data acquisition systems and powerful computers has extended the use of arrays from global seismicity monitoring to regional and local seismicity studies and even portable arrays are now quite common.
Arrays are constructed with different dimensions and sensors depending on their intended use. The arrays for global studies will have dimensions in the km range while arrays for small local earthquakes can be in the order of a few hundred meters. It is important that the arrays do not have a spatially periodic geometry to avoid spatial aliasing (for an incoming wave there is then two or more equally good solutions for apparent velocity and azimuth). This can be checked by calculating the array transfer function which is a two-dimensional figure showing the improvement in signal to noise ratio as a function of apparent velocity and azimuth.
Examples of arrays will be given.