2016 | OriginalPaper | Buchkapitel
2. Seismic Sensors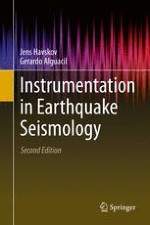 Erstes Kapitel lesen
Autoren: Jens Havskov, Gerardo Alguacil
Abstract
A seismic sensor is an instrument to measure the ground motion when it is moved by a perturbation. This motion is dynamic and the seismic sensor or seismometer also has to give a dynamic physical variable related to this motion.
The motion of the ground is generally measured in the xyz directions so three sensors are needed. The theoretical description is the same for the three sensors while the construction methods might be different. For special applications, ground rotation is also measured.
Our objective is to measure the ground motion at a point with respect to this same point undisturbed. The main difficulties of this are:
1.
The measurement is done in a moving reference frame, in other words, the sensor is moving with the ground and there is not any fixed undisturbed reference available. According to the inertia principle, we can only observe the motion if it has an acceleration.
2.
The amplitude and frequency range of seismic signals is very large. The smallest motion of interest is the ground noise, which carries information and might be as small as 0.1 nm, and the largest motion near a causing fault could be 10 m. This represents a dynamic range of (10/10−10) = 1011. Similarly, the frequency band starts as low as 0.00002 Hz (earth tides) and could go to 1000 Hz. These values are of course the extremes, but a good quality all round seismic station for local and global studies should at least cover the frequency band 0.01–100 Hz and ground motions from 1 nm to 10 mm.
It is not possible to make one single instrument covering this range of values in both frequency and amplitude and instruments with different gain and frequency response are used for different ranges of frequency and amplitude.
Sensors are divided into passive and active sensors. A passive seismometer essentially consists of a swinging system with a signal coil that outputs a voltage linearly proportional to the ground velocity at frequencies above the natural frequency
f
0
. No electronics is involved, however there is a lower limit to
f
0
of about 0.03 Hz so a passive sensor cannot be used for very low frequencies. Passive low frequency sensors are large, heavy and expensive. Most modern sensors are active. They also have a swinging system but different kinds of electronic feedback makes it possible to make smaller sensors covering a large frequency band (typically 0.01–100 Hz) with the output linearly proportional to velocity, the so-called broad band sensors. An accelerometer works with a similar electronic feedback principle but has an output linearly proportional to acceleration in a frequency band of typically 0–100 Hz. The MEMS sensor (Micro Electro-Mechanical systems) is an accelerometer using the same principle but built into an integrated circuit so the sensor is very small. There is now a tendency for all sensors to be of the active type since the cost has come down, however passive sensors with
f
0
 > 1 Hz (geophones) are still produced in large numbers.
The theory for passive sensors is relatively simple, while active sensors can use very sophisticated feedback and filter techniques making the theory correspondingly complex. However, the basic response of the two types of sensors is quite similar.
All sensors will generate electronic noise, particularly active sensors, and an important aspect of sensor design is to achieve as low a noise as possible.
Different sensors are used for different purposes. The broad band sensor is used for regional and global seismology, accelerometers for strong motion networks and geophones are used for recording micro-earthquakes.
Different kinds of sensors on the market will be discussed.