2016 | OriginalPaper | Buchkapitel
7. Seismic Stations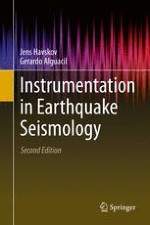 Erstes Kapitel lesen
Autoren: Jens Havskov, Gerardo Alguacil
Abstract
A seismic station is considered to be a permanent installation of a seismic sensor and possibly a seismic recorder. Seismic stations can also be temporary but then there is usually no permanent physical installation.
There are several considerations to make to make when installing a seismic station:
1.
The main goal is to make a sensor installation which is as insensitive to ambient noise sources (human and environmental) as possible, so that the sensitivity for earthquake generated signals is high. In other words, the station should be as far away from oceans and humans as possible. This goal conflicts with practical considerations like access and costs, so a compromise must always be made. The most critical aspect of the seismic station is the sensor installation. Ideally the sensor should be installed on hard rock with some housing around to shield it from wind and temperature variations. Broadband sensors are the most difficult and costly to install.
2.
Stations need power and putting up a good power system is very important. Most permanent station use power from the public grid. However both solar panels and wind generators are also used. In all cases, some suitable type of battery is used to assure uninterrupted power supply.
3.
Nearly all permanent and many temporary seismic stations use communication to a central facility and the station is considered to be part of a seismic network. Earlier, only physical lines were used while today communication by satellite and mobile networks are common. Choice of communication standard is an important decision. The most used public standards are SeedLink and EarthWorm.
The station can consist of only the sensor, digitizer and some transmission line with the recorder elsewhere, or the station can be complete with recorder and maybe a communication facility. Even without a local recorder, the digitizer must have some memory for buffering in order for the network to recover from communication breaks.