01.09.2014 | Ausgabe 12/2014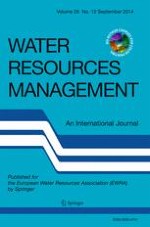 Selecting the Best Flood Flow Frequency Model Using Multi-Criteria Group Decision-Making
Zeitschrift:
Autoren:

Osman Mohammadpour, Yousef Hassanzadeh, Ahmad Khodadadi, Bahram Saghafian
Abstract
Several criteria should be considered when selecting a probability distribution to describe hydrological data. This study examines how multiple criteria can be combined to make the best selection. Selection becomes more difficult and subjective when more than two criteria are used to determine the best distribution. Under these conditions, multi-criteria decision-making is necessary. In this study, 12 distributions were tested and compared for flood frequency analysis based on five selection criteria: root mean square error, Kolmogorov-Smirnov test statistic, relative average bias, modified Anderson-Darling test, and deviation in skewness and kurtosis. The comparisons are made using a multi-criteria group decision-making (
MCGDM
) based on ordered weighted averaging (
OWA
). Two preemptive goal programming models based on variance and entropy methods for a predetermined level of optimism by a group of decision-makers, determined the weight of the
OWA
operator. The model was applied to a case study of Mahabad River, a major river flowing into Lake Urmia in northwestern Iran. A sensitivity analysis of the results of
MCGDM
was done by changing the degree of optimism of the decision-makers. The results of sensitivity analysis showed the dependence of the rankings to the optimism degrees of the decision-makers. The 3-parameter Weibull (
WBL3
) and Pearson type 3 (
PE3
) distributions had the best results for Mahabad River flood data. A Monte Carlo simulation was conducted to test the ability of the models. It was concluded from the findings of the simulation that the
PE3
distribution is the most appropriate for short sample sizes, while
WBL3
is preferable for larger sample sizes.