01.09.2015 | Ausgabe 9/2015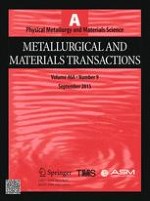 Selective Growth of Low Stored Energy Grains During
δ

Sub-solvus Annealing in the Inconel 718 Nickel-Based Superalloy
Zeitschrift:
Autoren:

Andrea Agnoli, Marc Bernacki, Roland Logé, Jean-Michel Franchet, Johanne Laigo, Nathalie Bozzolo
Wichtige Hinweise
Manuscript submitted January 11, 2015.
Abstract
The microstructure stability during
δ
sub-solvus annealing in Inconel 718 was investigated, focusing on the conditions that may lead to the development of very large grains (about 100
μ
m) in a recrystallized fine grained matrix (4 to 5
μ
m) despite the presence of second-phase particles. Microstructure evolution was analyzed by EBSD (grain size, intragranular misorientation) and SEM (
δ
phase particles). Results confirm that, in the absence of stored energy, the grain structure is controlled by the
δ
phase particles, as predicted by the Smith–Zener equation. If the initial microstructure is strained (
ε
< 0.1) before annealing, then low stored energy grains grow to a large extent, despite the Zener pinning forces exerted by the second-phase particles on the grain boundaries. Those selectively growing grains could be those of the initial microstructure that were the least deformed, or they could result from a nucleation process. The balance of three forces acting on boundary migration controls the growth process: if the sum of capillarity and stored energy driving forces exceeds the Zener pinning force, then selective grain growth occurs. Such phenomenon could be simulated, using a level set approach in a finite element context, by taking into account the three forces acting on boundary migration and by considering a realistic strain energy distribution (estimated from EBSD measurements).