01.12.2008 | Ausgabe 6/2008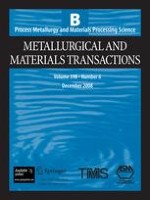 Selective Removal of Copper(II) and Nickel(II) from Aqueous Solution Using the Chemically Treated Chitosan: Factorial Design Evaluation
Zeitschrift:
Autoren:

M. Sepehran, B. Nasernejad, M. Edrissi
Wichtige Hinweise
Manuscript submitted March 3, 2008.
Abstract
In the present work, the adsorption of Cu(II) and Ni(II) ions from their mixture solution by raw and chemically modified chitosan has been studied. The full factorial design methodology was employed to reduce the total number of experiments. Analysis of variance and student's
t-
test have been performed for Ni(II) and Cu(II) removal efficiency and for the ratio of their removal. The two main factors considered were pH of solution (at two levels 2.8 and 4.8) and contact time (at two levels: 20 minutes and 18 hours). The third factor was a qualitative factor at two levels (raw chitosan and chemically modified chitosan). Among the factors studied, chemical modification of chitosan was the most effective factor for the ratio of nickel and copper removal efficiency. It was found that pH has no significant effect on Ni(II) uptake. The result from this study indicates that the adsorption selectivity of chitosan can be enhanced by chemical treatment and regulating pH and contact time.