01.02.2008 | Original Contribution | Ausgabe 2/2008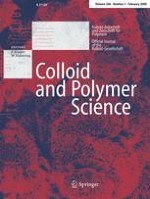 Self-assembled ultra-thin coatings of octadecyltrichlorosilane (OTS) formed at the surface of iron oxide nanoparticles
Zeitschrift:
Autoren:

Patrick Degen, Anuj Shukla, Uwe Boetcher, Heinz Rehage
Abstract
In a series of experiments, we coated iron oxide nanoparticles, which were originally stabilized with lauric acid, with a polymer layer of Octadecyltrichlorosilane (OTS). Characterization of the different coated nanoparticles was accomplished by Static and Dynamic Light Scattering, acoustic spectroscopy, and Atomic Force Microscopy. In various experiments, we systematically investigated the effect of different parameters such as the OTS concentration and iron oxide content on the particle size of the coated nanoparticles. It was recognized that the size of the coated nanoparticles mainly depend on the concentration of OTS (
C
OTS
) measured with respect to the concentration of the iron oxide particles (
C
mag.
). Below a well-defined threshold value of
C
OTS
/C
mag
, we did not observe any adsorption of OTS on the surface of iron oxide nanoparticles. The particle size of OTS-coated iron oxide nanoparticles increased rapidly at concentration ratios above the threshold concentration and reached a typical plateau value for long periods of time.