18.05.2017 | Ausgabe 17/2017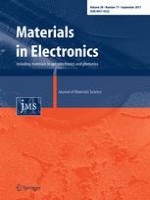 Self-assembly of N doped 3D porous carbon frameworks from carbon quantum dots and its application for oxygen reduction reaction
Autoren:

Chao Chen, Zexu Sun, Yueping Li, Liyuan Yi, Haoming Hu
Wichtige Hinweise
Electronic supplementary material
The online version of this article (doi:
10.​1007/​s10854-017-7091-3
) contains supplementary material, which is available to authorized users.
Abstract
Developing low-cost and high-performance metal-free oxygen reduction reaction (ORR) catalysts for fuel cells is highly desirable but still full of challenges. In this study, Nitrogen-doped three-dimensional (3D) porous carbon frameworks (NCF) derived from zero-dimensional carbon quantum dots have been prepared by a simple one-step self-assembly technique. The resultant NCF-800 (carbonized at 800 °C) possesses unique 3D porous framework architecture, large specific surface area (171 cm2 g−1) and abundant defect sites. As a catalyst for ORR, the optimized NCF-800 displays a positive onset potential at 0.87 V (vs. RHE), which is roughly 60 mV more negative than that of Pt/C (0.93 V). Additionally, the NCF-800 exhibits longer-term stability and strong endurance to methanol in alkaline electrolyte, which are much superior to those of Pt/C. Considering the outstanding activity of NCF-800, it can be worked as a prospective metal-free ORR catalyst for fuel cells in the future.