2017 | OriginalPaper | Buchkapitel
50. Self-Awareness Tool for Renewable Energy Production in Mixed-Use Urban Tissues:
Incubators

European Project for the Mediterranean Region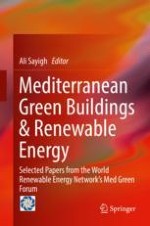 Erstes Kapitel lesen
Autoren: Luca Caneparo, Federica Bonavero, Barbara Melis
Abstract
Drawing on the
Incubators of Public Spaces project, funded by JPI Urban Europe
, this chapter considers the methods and tools used to support individuals', groups', organisations' and enterprises' self-ability to evolve towards grassroots interventions in urban regeneration processes. In particular, the chapter focuses on the assessment of the rational use and sustainable production of energy in mixed-use urban tissues, especially located in the Mediterranean region.
Everywhere in Europe and beyond, the on-going increase in the rational use of energy is changing urban spaces and raising citizens' awareness about energy. In the Mediterranean climate region – characterized by warm to hot, dry summers and mild to cool, wet winters – some strategies have already proven effective and replicable. Moreover, if we take as reference a mixed-use urban tissue, containing dwellings, production buildings, services and open spaces, unexploited synergies between different uses open a number of further opportunities (e.g. the plane roof of a neighbourhood supermarket can easily accommodate photovoltaic panels for the supply of electricity to residential buildings).
In particular, this chapter addresses the topic of renewable energy production potential of a Mediterranean mixed-use urban tissue with regard to its relationships with the local energy demand, with further issues of environmental sustainability (i.e. embodied energy, daylight, transportation energy), and with the role of citizens' self-interest actions. Indeed, the
Incubators
interactive and Web-based platform is designed to provide intuitive feedback about energy balance and cost savings. It provides guidance to tackle path-breaking energy issues on the building, neighbourhood and city scales so as to synergically attain the utmost environmental benefits.