30.05.2018 | Original Empirical Research | Ausgabe 6/2018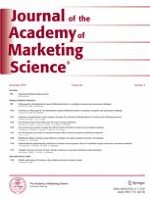 Selling, general, and administrative expense (SGA)-based metrics in marketing: conceptual and measurement challenges
Zeitschrift:
Autoren:

Annette Ptok, Rupinder P. Jindal, Werner J. Reinartz
Wichtige Hinweise
Electronic supplementary material
J. Andrew Petersen served as Area Editor for this article.
Abstract
Many studies use variables from the Compustat database to measure various marketing constructs, yet no clear guidelines detail which metrics correspond with which constructs. Justifications rest mainly on the ready availability of easy-to-use measures that seem related to a particular construct. As a result, various metrics have been utilized to capture the same construct, and the same metric—such as selling, general, and administrative expenses (SGA)—has been applied to capture vastly different constructs. But using SGA inappropriately can lead to biased estimates, questionable support for the hypotheses, and potentially misleading implications for research and practice. To test the validity of SGA for multiple relevant marketing and sales constructs, this study gathers data on benchmark variables from alternative data sources and applies a multitrait-multimethod (MTMM) approach. Results show that, in general, SGA has been applied too liberally in marketing contexts; SGA is an appropriate operationalization only for some constructs. This article provides guidelines for the proper conceptualization and operationalization of marketing constructs.