27.06.2017 | Ausgabe 4/2017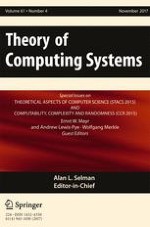 Semiautomatic Structures
Zeitschrift:
Autoren:

Sanjay Jain, Bakhadyr Khoussainov, Frank Stephan, Dan Teng, Siyuan Zou
Wichtige Hinweise
This article is part of the Topical Collection on
Special Issue on Computability, Complexity and Randomness (CCR 2015)
S. Jain was supported in part by NUS grant C252-000-087-001; furthermore, S. Jain and F. Stephan were both supported in part by NUS grants R146-000-181-112 and R252-000-420-112. B. Khoussainov was supported in part by a Marsden Fund grant of the Royal Society of New Zealand. The paper was started while B. Khoussainov was on sabbatical leave to the National University of Singapore. The final work on this paper was done with support in part to S. Jain, B. Khoussainov and F. Stephan by the Singapore Ministry of Education Academic Research Fund Tier 2 grant MOE2016-T2-1-019 /R146-000-234-112.
Abstract
Semiautomatic structures generalise automatic structures in the sense that for some of the relations and functions in the structure one only requires the derived relations and functions are automatic when all but one input are filled with constants. One can also permit that this applies to equality in the structure so that only the sets of representatives equal to a given element of the structure are regular while equality itself is not an automatic relation on the domain of representatives. It is shown that one can find semiautomatic representations for the field of rationals and also for finite algebraic field extensions of it. Furthermore, one can show that infinite algebraic extensions of finite fields have semiautomatic representations in which the addition and equality are both automatic. Further prominent examples of semiautomatic structures are term algebras, any relational structure over a countable domain with a countable signature and any permutation algebra with a countable domain. Furthermore, examples of structures which fail to be semiautomatic are provided.