08.02.2016 | Focus | Ausgabe 16/2017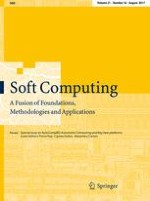 Sensing service architecture for smart cities using social network platforms
Zeitschrift:
Autoren:

Bogdan-Cosmin Chifor, Ion Bica, Victor-Valeriu Patriciu
Wichtige Hinweise
Communicated by F. Pop, C. Dobre and A. Costan.
Abstract
The Internet of Things is an emerging subject nowadays and the applications based on this concept have multiple practical issues that can be applied in many areas of our society: smart grid, building and home automation, automotive, health care or smart cities. The Internet of Things enabled applications will radically change the interactions between humans and the environment, thus security being a key-point of this ecosystem. One of the most important Internet of Things enabled scenarios is the smart city, this application having a direct impact on multiple social areas: smart lighting, smart roads, noise urban maps and many others. Smart city objects will interact with both humans and machines, implementing multiple communication protocols. Taking this into consideration, integrating smart city objects with social networks is a logical step, even though this idea implies multiple security issues and innovative big data processing systems. Social networks represent a platform where both machines and humans can exchange messages, being an information source and sink for the smart city objects. This paper presents a security architecture where social networks enable an adaptive sensing-as-a-service system. Smart city objects, which need additional information beside the one obtained from the sensors, collect it from the most trusted nodes on the social network. This system enables an autonomic computing mechanism where smart objects have a reputation built on the feedback received from both human and other nodes, a certain degree of trust being transferred to all the nodes which contributed to the publication of reliable information.