2017 | OriginalPaper | Buchkapitel
Sensitivity of WRF-ARW Model to Cumulus Parameterisation Schemes in Prediction of TC Intensity and Track Over the North Indian Ocean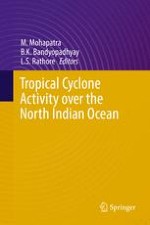 Erstes Kapitel lesen
Autoren: S. K. Bhattacharya, S. D. Kotal, S. K. Roy Bhowmik, P. K. Kundu
Abstract
Tropical cyclones (TCs) are one of the most devastating extreme weather events causing tremendous loss to human civilisation. With the growing population and economic developments, more life and property are getting exposed to the nature's fury, particularly, along the coastal areas and these vulnerable groups always look forward to efficient real time forecasting to minimise their losses. Numerical Weather Prediction (NWP) models with its reasonable strength to forecast for several days in advance especially for the data sparse regions over the oceans are extremely handy for the operational forecasters. There has been considerable improvement during the past decades in the prediction of track and intensity of TC (Mohapatra et al. J Earth Syst Sci 122:433–451. doi:
10.​1007/​s12040-013-0291-1
, 2013a, Nat Hazard 68:589–601. doi:
10.​1007/​s11069-013-0624-z
, 2013b, Mausam 61:1–15, 2013c) using NWP models (Kotal et al. Trop Cycl Res Rev 3:162–177, 2014). Hence, the operational forecasters across the globe look forward to the NWP models' products.