19.03.2020 | ORIGINAL ARTICLE | Ausgabe 4/2020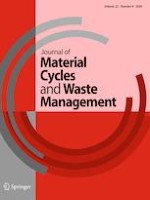 Separation and recovery of materials from the waste light emitting diode (LED) modules by solvent method
Zeitschrift:
Autoren:

Ping Zhu, Yi Ma, Yangjun Wang, Yazheng Yang, Guangren Qian
Wichtige Hinweise
Electronic supplementary material
Publisher's Note
Springer Nature remains neutral with regard to jurisdictional claims in published maps and institutional affiliations.
Abstract
Nowadays, a large quantity of Light Emitting Diodes (LEDs) have been produced and updated with the development of optoelectronic industry. At the same time, many waste LEDs are discarded. However, there are many metals and non-metals in waste LEDs, which may cause secondary pollution and waste of resources if disposed improperly. In this study, solvent method was used to dissociate the waste LED modules and recycle resources. Firstly, the components of the waste LED modules were analyzed. The main component of the transparent plastic part, usually used as packaging materials, is cured epoxy resin, and the main component of the white plastic part as the skeleton of LED modules is a mixture of polyphenylene oxide (PPO) and polystyrene (PS). Then, eight organic solvents, [EMIM+]BF4− ion liquid and sodium hydroxide (NaOH) inorganic reagent were tried to separate a 40 × 40 mm2 waste LED module respectively. The results showed that only three organic solvents—dimethylformamide (DMF), dimethylacetamide (DMA), dimethyl-sulfoxide (DMSO) could dissociate the waste LED module very well. The used DMF solution was purified by rotary evaporation, and the regenerative DMF solution could be reused because its property has not changed. The solid residue obtained after rotary evaporating DMF was identified as polystyrene (PS). It was inferred that the waste LED module was dissociated through the DMF dissolving the PS of white plastic. In addition, the effect of DMF, DMA and DMSO dissociating the waste LED modules with the change of temperature was discussed. It was found that the choice of suitable solvent is a key for this method, and the heating temperature was also a very important factor. Finally, it was measured that the cured epoxy resin and the white plastic of the waste LED module accounted for about 31.4% (w/w) and 37.7% (w/w) respectively, which can be recycled. In short, the method not only separated completely the waste LED module and its each part was recycled easily, but the solvents can be reused. This study suggests a new route to recycle LEDs due to its environmentally friendly process, which may exert a significantly beneficial impact on our environment.