22.01.2016 | Ausgabe 2/2016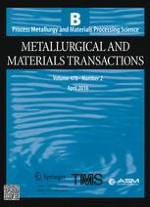 Separation of Iron Phase and P-Bearing Slag Phase from Gaseous-Reduced, High-Phosphorous Oolitic Iron Ore at 1473 K (1200 °C) by Super Gravity
Zeitschrift:
Autoren:

Jintao Gao, Yiwei Zhong, Lei Guo, Zhancheng Guo
Wichtige Hinweise
Manuscript submitted October 22, 2015.
Abstract
In situ
observation on the morphology evolution and phosphorous migration of gaseous-reduced, high-phosphorous oolitic iron ore during the melting process was carried out with a high-temperature confocal scanning laser microscope. The results showed that 1473 K (1200 °C) was a critical temperature at which the gangue minerals started to form into the slag phase while the iron grains remained in a solid state; in addition, the phosphorus remained in the slag phase. Since the separation of iron grains and P-bearing slag was not achieved at the low temperature under the conventional conditions, separate experiments of the iron phase and the P-bearing slag phase from gaseous-reduced, high-phosphorous oolitic iron ore at 1473 K (1200 °C) by super gravity were carried out in this study. Based on the iron-slag separation by super gravity, phosphorus was removed effectively from the iron phase at the temperature below the melting point of iron. Iron grains moved along the super-gravity direction, joined, and concentrated as the iron phase on the filter, whereas the slag phase containing apatite crystals broke through the barriers of the iron grains and went through the filter. Consequently, increasing the gravity coefficient was definitely beneficial for the separation of the P-bearing slag phase from the iron phase. With the gravity coefficient of
G
= 1200, the mass fractions of separated slag and iron phases were close to their respective theoretical values, and the mass fraction of MFe in the separated iron phase was up to 98.09 wt pct and that of P was decreased to 0.083 wt pct. The recovery of MFe in the iron phase and that of P in the slag phase were up to 99.19 and 95.83 pct, respectively.