01.04.2013 | Ausgabe 3/2013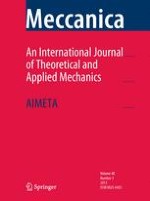 Series solutions for steady three-dimensional stagnation point flow of a nanofluid past a circular cylinder with sinusoidal radius variation
Zeitschrift:
Autoren:

Saeed Dinarvand, Reza Hosseini, Ebrahim Damangir, Ioan Pop
Abstract
This article deals with the study of the steady three-dimensional stagnation point flow of a nanofluid past a circular cylinder that has a sinusoidal radius variation. By means of similarity transformation, the governing partial differential equations are reduced into highly non-linear ordinary differential equations. The resulting non-linear system has been solved analytically using an efficient technique namely homotopy analysis method (HAM). Expressions for velocity and temperature fields are developed in series form. In this study, three different types of nanoparticles are considered, namely alumina (Al
2
O
3
), titania (TiO
2
), and copper (Cu) with water as the base fluid. For alumina–water nanofluid, graphical results are presented to describe the influence of the nanoparticle volume fraction
φ
and the ratio of the gradient of velocities
c
on the velocity and temperature fields. Moreover, the features of the flow and heat transfer characteristics are analyzed and discussed for foregoing nanofluids. It is found that the skin friction coefficient and the heat transfer rate at the surface are highest for copper–water nanofluid compared to the alumina–water and titania–water nanofluids.