2020 | OriginalPaper | Buchkapitel
3. Servant Leadership and Change: A Review of the Literature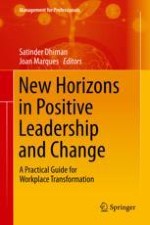 Erstes Kapitel lesen
Autor: Gary Roberts
Abstract
One of the enduring images of Christianity is that of Christ as the good shepherd, which is a relevant metaphor for servant leadership's emphasis on promoting enduring and desirable organizational change. Functional organizational change is a global construct that reflects the overall efficacy of servant leadership in promoting desirable employee attitudes, behaviors, and performance outcomes (Roberts,
2016
). Servant leadership emphasizes two meta-dimensions of stewardship and servanthood directly promoting efficacious change management practices (Roberts,
2015
). This chapter will review a large sample of servant leader empirical studies and present clear evidence of its positive influence on the attributes of servant leadership that promote effective organizational change. The research literature and subsequent analysis for this chapter is based upon 138 empirical mostly quantitative studies published from 2004 to 2019. Change related studies were then selected from this group of 138 by key word search in the 138 article abstracts. A total of 18 change related studies were identified through this process. The 138 studies generated 285 empirical outcomes of which 275 (96.5%) are favorable in directionality regarding the influence of servant leadership on change related outcomes. There were only nine nonsignificant (3.3%) and one negative (0.35%) relationships identified. Of the 138 studies, a final grouping of 104 studies was selected for the final analysis through the elimination of nonchange related dependent variables.