2014 | OriginalPaper | Buchkapitel
6. Serviceability Estimations for Elements of Building Structures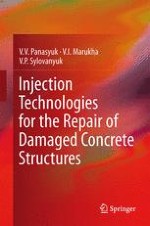 Erstes Kapitel lesen
Autoren: V.V. Panasyuk, V.I. Marukha, V.P. Sylovanyuk
Verlag: Springer Netherlands
Abstract
Chapter 6 describes analytical models of and solutions to specific problems concerning strength of deformed bodies with defects filled with injection materials. Obtained solutions are the theoretical basis for service life estimations for structural elements after renewal by injection technologies.
For this purpose, a mathematical model of a cracked material healed with injection technologies was developed. The authors analyzed the model in both 2D and 3D formulations. This chapter presents applicability limits of results obtained in two-dimensional approximation. Investigation of crack wedging effects by injection mixtures shows that such effects are significant since they can lead to the growing of the initial crack-like defects under certain conditions.
The extent of filling of defects with an injection material is the important parameter of the technology under consideration. Complete defect filling, in practice, is often hardly attainable, due to various reasons. Therefore, it is important to develop approaches for evaluation of the influence of incomplete defect filling on the effectiveness of damaged structural element renewal.
The problem of injection into a damaged body containing a system of mutually interacting cracks is also considered. The authors consider in detail injection into a system of two cracks. They study the effectiveness of strength restoration for the case of cylindrical structural elements. The solution for transverse compression of a cylindrical element along the planar defect is included. Such specimen configuration is widely used for strength at the testing of brittle materials for strength and fracture toughness. The convenience of such a configuration is in that it requires no special equipment for experiments except for a compression machine. The basic experimental investigations necessary for optimization of injection technologies have been performed using this scheme alone.